Easter Holidays - April 7-16th (services resume April 17th)


Product Info
Delivery
Related Products
Legendary 7075 alloy quality, Neos comes in the durable 1618 size that is ideal for leisure & beginner archers where arrow spine is not critical, suited to draw weights up to 30 lbs.Great news for clubs is that these are available in length's up to 32.5"Custom Made Arrows Include -• Arrows cut to length• Neos Points• Arizona Elite Vanes - EP-26• Arizona Plasti-Nocks - 1/4" (set for finger release)(Please use below menu's to select required length)
Important:

Usually dispatched within 3-5 working days mon-fri

We do our best to keep items marked as "in stock" available, but please note stock levels are not live - If urgent or travelling to our showroom, please always call or email so we can confirm availability.
Shipping Costs

Details of postage and or shipping charges are shown at the check out, our system calculates shipping costs based on the physical weight of your order, once packed if we are able to save money on postage, we will pass on these savings on to you.
Mainland UK Shipping Guide:

Small Items from - £4.00
Arrows etc. from - £8.50-£10
Bows/Small Targets from - £10
Full Size Targets from - £40
Click & Collect - FREE

You can now order anything online and pick up from our centrally located Wolverhampton showroom.

Step 1 - Add your items to basket and head to checkout

Step 2 - Choose Click & Collect

Step 3 - Look out for an e-mail from us stating your order is ready to collect.
Following step three, your order will be ready and waiting for you!
People who bought this also bought:
Stocked - see delivery tab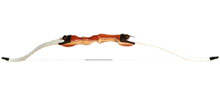 Wildcat - Recurve Bow
Find Out More