Product Info
Delivery
Related Products
The Competitive Archer provides practical advice to archers showing them a path to success in their competition performance, taking them from keen weekend competitors to top athletes in the world arena.The book covers: • How to set goals and then prioritize those goals• The nature of more serious competition in archery: making decisions about how much time an individual is able or wishes to give to the sport, how far that time will get them and making the best use of limited time• Planning training and competition schedules• More advanced training, shooting practices and techniques to speed up and increase improvement, and to evaluate progress• Incorporating mental practices into training• Fine-tuning of archery equipment• Preparation for individual and team competitionsAlthough this book deals with success in archery, it shows that the path to success follows the same procedure in any endeavour. The Competitive Archer includes advice and tips from thirty-five top international and Olympic archers about their methods for success, and also draws on the author's extensive experience and knowledge.
Usually dispatched within 2-3 working days Mon-Fri - (Excluding Wednesdays & Bank Holidays)
• We do our best to keep items indicated 'stocked' available from our physical stocks,
but please note stock levels are not live.
• Custom order items typically take 10-21 days to dispatch unless otherwise stated.
If urgent or travelling to our showroom, please always call or email so we can confirm availability.
Mainland UK Shipping Guide:
Small items from - £4
Single Parcel (up to 20kg) from - £10
Click & Collect - FREE
- Please do not to travel to our showroom until we notify you that your order is ready to be collected.
For guaranteed or next day delivery please contact us on 01902 791891
People who bought this also bought:
Stocked - see delivery tab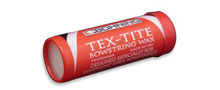 Bohning Tex-Tite Wax
Find Out More