Showroom Closed from Monday August 19th till September 2nd.
Limited mailorder service during this time, thank you for your support.



BowSports Archery Centre
• Closed All Bank Holidays
Showroom Address:
BowSports LTD, Calibre Park, Laches Close, Four Ashes, Wolverhampton WV10 7DZ England.Tel: +44 (0) 1902 791891
About Us
Established in 1984, BowSports is a family based business that has helped introduce 1000's of people to the sport of archery.
Our sales staff are all experienced archers who are more than happy to assist you in finding the right equipment and setup to suit your needs.
With over 30 years' experience and one of the largest showrooms in the Midlands we are best placed to service your archery needs providing everything under one roof :-
Same price online and instore
Free advice - we love to share our archery knowledge
Measure for draw length, arrow length and bow weight
String & Arrow making service (while you wait depending on workload)
Sales - large stocks, including all the major brands
Try before you buy (excludes arrows)
Free basic setup included on all bow sales
Coaching - £40 per hour, covering everything from shooting form to equipment set up
Draw Boards, Paper Tuning, Third Axis etc. we can do it all at BowSports and more.
Whether you choose to visit in person or shop on our extensive online site, we aim to give our best to all our customers.
If you have any suggestions or comments please email us at:
support@bowsports.com
Directions
M6 - Junction 12
Take the A5, towards Cannock. At first traffic lights turn right into Vicarage Road (leads on to Station Road), after humpback bridge, turn left into Enterprise Drive, and then first right into Laches Close. Follow road into Calibre Industrial Park and we are on the left hand side.
M54 - Junction 2
Take the A449, towards Stafford. Approx. 2miles turn right at Four Ashes Pub into Station Road, then take the second right (Enterprise Drive) and first right (Laches Close). Follow road into Calibre Industrial Park and we are on the left hand side.Travelling to and from the new M6 Toll is very easy - If you are approaching the new M6 Toll from the south you can join at either junction 7a of the M42 or junction 4 of the M6. From the north you can join at junction 11a of the M6. The route that the new M6 toll follows is that of the existing road corridors of the A5, A38 and A446.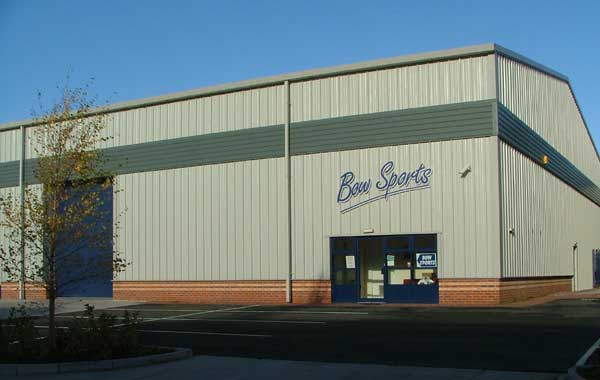 Shop front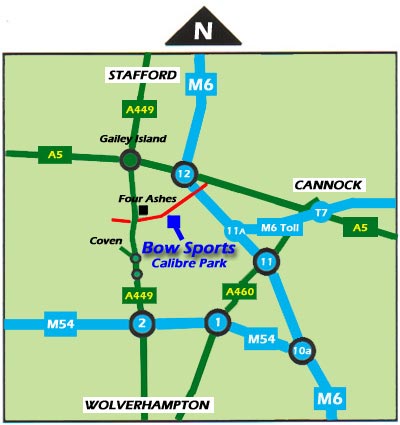 Map